As Polish parliamentary elections are fast approaching, I decided to share with you my thoughts about good and bad decisions the ruling party made during the last term of office. Looking back at the last 4 years, there is definitively a lot of potential for improvement.
Don't get me wrong – the main reason I am writing this article is because I love Poland and I am willing to fight for the long-term well-being of Poland & its citizens!😊
Positive decisions
Firstly, I would like to highlight some positive aspects of the last term, with PiS as the ruling party.
Implementation of several digital solutions which facilitate the life of Polish citizens, for example ePUAP
Some efficient rules to avoid VAT fraud
No significant, negative impact on business. From Sii Poland perspective, the government has been almost invisible during the last 4 years.
Nevertheless, there are 3 negative law changes which I must point out:
PPK, which will be implemented on November 1st, 2019. For Sii, it will be an additional cost of around PLN 3 M each year + a lot of additional work & bureaucracy for our social & payroll department employees.
VAT declaration, which is now required to be submitted monthly instead of quarterly. It means increased bureaucracy and problems in terms of cash flow.
Ambiguous and outdated regulations. Tax regulations cause a lot of problems for taxpayers like Sii. They are often too complicated, not clear, open to interpretation. It does not help companies to develop easily.
Negative impact
Although it can't be denied that PiS has made some good decisions during the last term of office, my overall opinion about the last 4 years is negative. Let me explain why.
Control over the judiciary system
The current political system in Poland is dangerously close to be a dictatorship, where judges are fully controlled by the government. With Constitutional Court demolition and high Supreme Court dependency on politicians, it may become risky for Polish citizens to criticize the government & the ruling party – this is also characteristic of any form of dictatorship in the world.
Even writing this article, as Sii CEO, carries on an element of risk. After its publication, the government may carry out a close inspection of Sii. However, being a courageous guy, with transparency as one of my core values, I openly say what I think, fighting for the long-term good of Poland & Polish people.
Ban on trade on Sundays
Such a decision means a less productive life. Personally, I have no time to do the shopping during the week because I am busy with work and family life. Now, I am forced to do it on Saturdays, in much worse conditions, with a huge amount of customers & heavy traffic.
Worse relations with our EU partners
Poland used to play a more significant role – 4 years ago we had a much stronger position in the EU, better reputation, greater negotiation power & higher impact on EU decisions. Now the situation looks totally different and Poland has 1 partner left – Hungary, with its populist president Mr. Orban.
Missing good investment opportunities
What I have in mind here is the particularly bad decision of not buying Airbus helicopters in 2016. Poland missed a great opportunity to attract a new strategic investor to Poland. Moreover, Airbus could have created thousands of aeronautics and engineering jobs in Poland. We could now be the 5th solid footprint for Airbus, after France, Germany, Spain & England. Because of a bad decision, Poland missed this amazing opportunity.
The 500+ program
Why is implementing the 500+ program a bad decision according to me?
Because it has negative long-term consequences for Poland – taxes (PPK, ZUS) must be increased to cover the populist expenditures
Instead of spending tens of billions of PLN on 500+, it would be smarter to allocate this money elsewhere, for example increasing the healthcare or education budget, rising salaries of those practicing key underpaid professions like teachers, doctors or nurses, or opening more schools or nurseries in Poland to support women with young kids.
The employment rate of women has dropped
There is no significant increase in child birth
The main risk and problem of 500+ is that it causes an increase of the public expenses which are financed by social security taxes. So it will cause an increase of ZUS for employers & employees.
Lowering the retirement age
Lowering the retirement age when people live longer, and retirement pensions are already very low in Poland is completely absurd. In my opinion, it is an unwise populist decision, taken only to win the next elections, that will have negative long-term consequences for the Poles.
I admit that I am in favor of increasing the lowest retirement pensions in Poland in the case of poor people, but not reducing the retirement age. The problem is how to find money to cover those expenses? The only solution is to increase taxes (ZUS, PPK, etc.), which will have bad long-term consequences for our country. Why? I discuss it below.
Excessive growth of public spending, ZUS & taxes, caused by populist decisions mentioned above
The graph below presents an increase of public expenses in Poland over the last 4 years. As you can see, the expenses grew since PIS took power in 2016.
If you want to spend money, you need to have it. If you don't, you need to raise taxes to fund initiatives like 500+, additional pensions for the retired, PPK, ZUS, etc.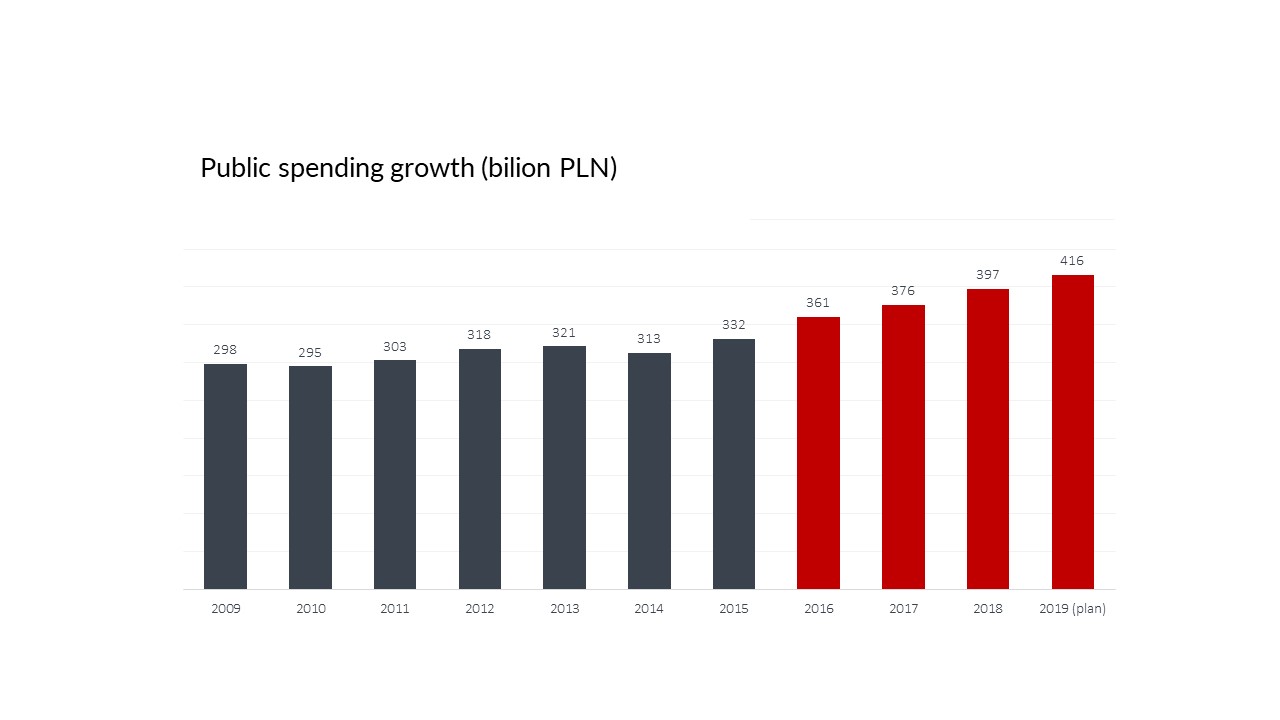 It is not surprising that people are happy to receive money for nothing. But this money is not a gift from PIS. It comes from taxes paid by Polish citizens and, above all, their employers – companies like Sii. Some Poles do not understand that this money is not "for free" & they will have to pay for it (through higher taxes & higher ZUS).
Such an increase in taxes means that Poland will become less competitive in comparison with other countries. It will make some investors and multinational companies stop investing & creating jobs in Poland. Some businessmen will be motivated to invest elsewhere. Investors are attracted by liberal countries giving business freedom & reasonable taxes (for example Switzerland, the Netherlands or Ireland in the case of Europe).
Poor investments mean less jobs created & stagnation on the job market in Poland.
What is more, there will be no possibility to increase salaries because the unemployment rate will grow, lowering the employee versus employer negotiation power. Explanations:
If the unemployment rate is low, it is a comfortable situation for the employees – they can easily change job if they are not happy with what they do, their salary or manager. On the other hand, companies must fight hard to keep their workers and minimize the attrition rate, so they offer competitive working conditions & higher salaries.
However, when the unemployment rate is higher, companies care significantly less about their employees because it is easy to replace them if they quit. It is simply easier to recruit new workers. From an employee's perspective, the prospect of losing his or her job can be scary because it would be difficult to find a new one.
Public media dependent on the government
Using TVP (Polish national TV) financed by public money (our money, not PiS money) as a propaganda tool reached an unacceptable level. You can read more about how I feel about that in my article '10 things I don't like about Poland'.
TVP propaganda has some negative impact on the beliefs of the Polish people, who have become more racist and more conservative. This causes an unhealthy atmosphere of hatred between conservatives voting for PiS & other groups of people. The current political situation divided society to break into groups, some of which are fueled with hatred towards each-other:
Anti-LGBT vs LGBT supporters
Anti-foreigner's vs foreigners' supporters
Christian Catholics vs other religious beliefs (Jewish, Muslims, Hinduisms), or atheists
Anti-rich people & businessmen vs rich businessmen
Anti-liberal people against people who love liberty & freedom
Because of PIS propaganda on TVP, now there are on average more racists among the Polish people than 4 years ago. In general, the atmosphere is worse. People of race, religion or sexual orientation other than that of most Poles are more scared of living in Poland today than 4 years ago. The level of tolerance among Polish citizens is lower, in general.
Conclusions
There are many doubts as to what political decisions will be made soon, especially when it comes to the ZUS increase in the upcoming months, which will be needed to finance the growing public expenses.
To sum up, I have serious doubts as to whether it is still worth investing in Poland.
From Sii Poland perspective: Should we invest in Poland? Or should we create new delivery centers, new software factories & new jobs in other more liberal countries with lower ZUS?
For me personally: Up to now, all my investments & capital have been in Poland (Sii Poland shares, Tawerna Kaszubska, 2 houses in Warsaw & Kaszuby bought in 2011 and 1 flat in Warsaw bought in 2007). Poland is where I have reinvested all the money I earned during my whole life. Shouldn't I start to invest my money in another country?
I really love Poland & Polish people. But with PIS as the ruling party, I don't think it is a good long-term decision for companies & wealthy individuals to invest in Poland.
If Poland wants to continue to grow & win during the upcoming years to the benefit of its citizens, becoming happier & more powerful than Western European countries for example, it should:
Stop increasing public spending in order to keep taxes & ZUS at a competitive level
Kill bureaucracy, implement lean, smart, agile & efficient laws, procedures & public services (like justice, healthcare or education)
Spend public money in a smarter way, not becoming a giveaway like in the case of 500+.
Poland should get inspired & follow the examples of successful liberal countries like Ireland, Singapore or Switzerland; not socialist countries like France, Italy or Greece. Those 3 countries have:
Enormous public debt – which means very high interest rates to be paid each year.
Huge amount of taxes to finance the public expenses & public debts. Those high taxes discourage entrepreneurs & companies from investing & creating jobs in these countries.
Partly lazy population – why working when you can get money (like 500+) doing nothing?
(Greece, Italy & France stay alive so far & do not go bankrupt thanks to tourism – millions of visitors spend billions of euros in those countries each year. Poland does not have such a big income from tourism, unfortunately).
So I will not vote for PiS in the upcoming elections, because PIS plans will have a negative impact on the economy, society & polish people life in coming years.
Who will I vote for then? I am not sure yet. I will make my decision after the final debate.
Have you made your mind yet? I am curious to know whether you agree with me or you think PiS is the best solution for our country. Either way, let me know in the comments below.
Greg
---